3529 Galaxy Rd, Ladson, SC 29456
1303 #4 Ben Sqwyer Blvd, Mt Pleasant, SC 29464

Please find your child below for their cap and gown photos for their graduation from kindergarten from The Oaks Christian School. You will need to know the proof number to place an order. The packages will be listed below. Please bring your payment to the front desk along with the information on what package(s) you want as well the proof number. If you have any questions there is an e-mail link below that you may use to contact me.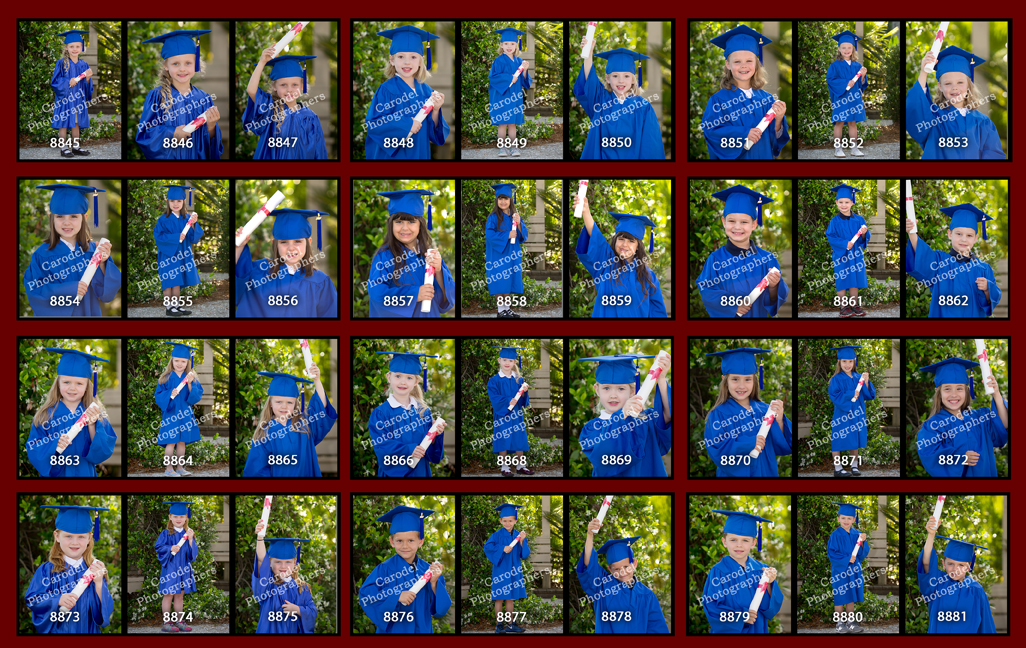 Please make checks payable to
Carodel Photographers
.
Package A - $60.00
(2) 8x10
(4) 5x7
(4) 3.5x5
(24) wallets
Package B - $50.00
(1) 11x14
(1) 8x10
(2) 5x7s
(8) wallets
Package C - $25.00
(1) 8x10
(2) 5x7s
(8) wallets
Package D - $35.00
(1) 8x10
(4) 5x7s
(16) wallets
Package E - $30.00
(1) 8x10
(2) 5x7s
(16) wallets
Package F - $25.00
(2) 5x7s
(4) 3.5x5s
(8) wallets
Package G - $12.50
(1) 5x7
(4) wallets
Package H - $55.00
all individual photos on cd
Group photos
5x7 - $8.00
8x10 - $10.00
Canvas prints:
8x10 - $25.00 11x14 - $45.00 16x20 - $65.00 20x24 - $95.00
Contact me to place an order or if you have any questions

Mount Pleasant, Charleston, Folly Beach, Hilton Head, Kiawah, Seabrook Island, Myrtle Beach, Sunset Beach, Pawley's Island